At Hulu, we obsess over making TV viewing delightful and convenient to our users: When they want it, where they want it and how they want it. Carrying that story forward is Hulu Plus for Windows Phone 8, something we are very excited to introduce to our Windows users.
Our team has been focused on creating a beautiful and comprehensive Hulu Plus experience that is optimized for Windows Phone 8. It is now available in the Windows Phone Store.
The app leverages Windows design principles that lend themselves elegantly to the rich content catalog and features on Hulu Plus. The clean and easy to navigate UI provides a visually engaging and intuitive experience.
Launching the app will present a panorama of clips, episodes and shows organized neatly for quick and easy access. Whether you want to binge on "Modern Family" or just need a quick dose of trending clips from "Late Night with Jimmy Fallon," the main page has it all laid out for you. There are 6 content hubs – TV, Movies, Latino, Trailers and Kids, which promise non-stop entertainment, just a tap away.

As Chris Trager from "Parks and Rec" would say, "We literally know what you want…" We try our best to understand what our users want and suggest what they may like. Which is why you'll see recommended shows and movies across the app. For example, if you've been binge-watching "Revenge," we'll have "Scandal" lined up for you next. Or you can search for whatever you are in the mood for using our advanced search option.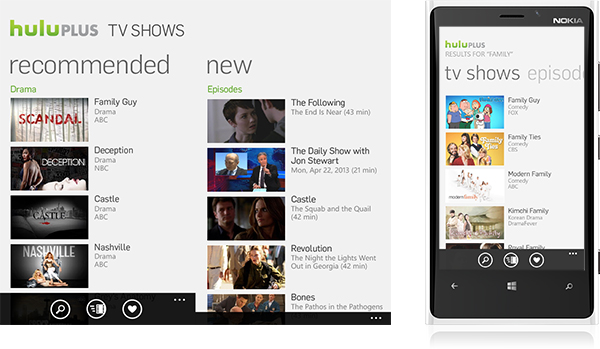 Your phone is always with you and we want to make sure that Hulu Plus is there to entertain you as you like it. If you were unable to finish up last night's episode of "Community" on your Xbox or tablet, you can instantly resume where you left off using the Hulu Plus app for Windows Phone 8 on your bus ride to work. However, if you just have 15 minutes at lunch time, you can snack on top clips from the show page or add them to your queue for later.

If you are a TV junkie like us, our daily refreshed trending now clips and artfully curated editorial compilations on the latest and greatest of TV and pop culture will keep you in the know. Even when you are not in the app, we'll keep you up to date with fresh off the boat episodes and TV shows via Live Tiles on your phone's home screen, so you don't miss a moment.

We hope you will enjoy the Hulu Plus experience on your Windows Phone 8, as much as we've enjoyed creating it. Download the app on your Windows Phone 8 from the Windows Phone Store and let us know what you think.