One of the perks of working at Hulu is that I get to watch a lot of TV. Like the rest of the Hulu team, I love TV shows that draw us in every week, delight us with unexpected story twists, engage us with unique characters, and surprise us with humor and drama.
Since Hulu is always scouring the planet for the best TV shows we can offer, you can only imagine how excited we are to announce our brand new slate of classic shows now available exclusively on Hulu and Hulu Plus.
Today, you'll be able to binge on every episode from any season of "Inspector Spacetime," "The Itchy & Scratchy Show," "MILF Island," "Mock Trial With J. Reinhold,"  "Ya Heard? With Perd," "Sick, Sad World," "Queen of Jordan," "Space Teens," and "Numberwang" all in one place.
No, that one place isn't your dreams. That one place is Hulu.
We're bolstering our movie lineup, too. We're proud to bring you "The Rural Juror," winner of multiple awards worldwide including "Most Unpronounceable Film" at the Cannes Film Festival and "The Daytona High School Movie Night Participation Award."  The seven-hour, one-part film follows Jenna Maroney as a twirler girl whose demure world, spurred by Irma Luhrman-Merman's murder, is cured by a fervid whirl of her turgid error. It also stars Kari Whurer. We are also adding its sequel, "Urban Fervor," to our service.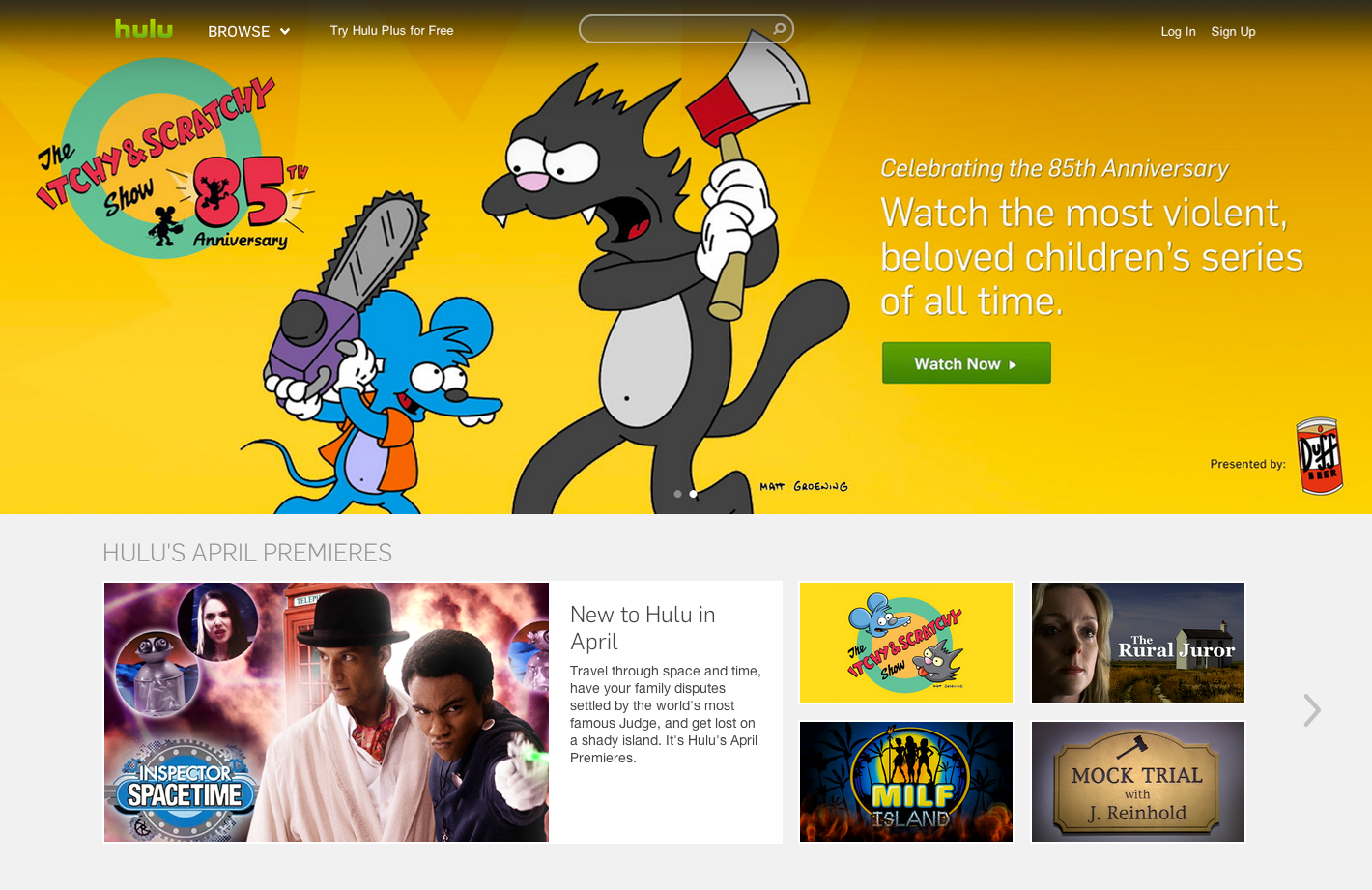 It is an honor, as well, to present to our users the entire catalogue of the beloved, ultra-violent children's series "The Itchy & Scratchy Show." Thanks to a laborious, day-and-night effort by our video publishing team, all 63,764 episodes of "Itchy & Scratchy" are available on Hulu and Hulu Plus starting today — with the exception of seven episodes banned by "Springfieldians for Nonviolence, Understanding, and Helping," and one from 1934 that is too deplorable to discuss.
And get your X7 Dimensionisers ready, "Inspector Spacetime" fans! Today, you can follow all 11 Inspectors through the 51 years of the classic British TV series and its probably too intimidating catalogue. Brought back to prominence with a viral campaign by students Troy Barnes and Abed Nadir on the campus of Greendale Community College, "Inspector Spacetime" boasts a small but rabid fanbase. As always, Hulu is thrilled to align ourselves with TV shows and fans that are streets ahead.Oh, and we have acquired the rights to British math quiz show "Numberwang." We hope to one day understand it.
I truly hope you enjoy the new additions to our service as much as we all do. Special thanks to our friends at Sabor de Soledad CheesePuffs, McDaniels, The Tracy Jordan Meat Machine, and Duff Beer for their support as official launch sponsors.
Happy watching!  4.1.13. And that's Numberwang.