At Hulu, we are relentless about creating beautiful, intuitive and engaging experiences that help you find and enjoy popular current season TV shows whenever you want, on whatever device you want. Which is why we are so proud to announce the Hulu Plus app is now available on one of the newest operating systems: Windows 8.
Our team has been heads down building a gorgeous new Hulu Plus app that is optimized for the Windows user interface. The app will be available to the general public on October 26th, but those of you with early access to Windows 8 can check out the Hulu Plus app now. You'll see we've included a few new goodies.
The new Hulu Plus app leverages core Microsoft design principles with our touch-optimized experience. The UI is simple and clean and puts the most relevant content first, creating a visually immersive experience in the most engaging way.
Launching the app presents you with an immersive panorama of your favorite shows and episodes laid out in a wide canvas. Check out this quick video tutorial:
The Hulu Plus app uses a tile-based view common to the new Windows UI. This will make it easy for you to find the latest episode of the shows you want to watch, but also to discover new ones.

When using Hulu Plus, we know you care about getting to "Family Guy" or "The Daily Show with Jon Stewart" as quickly as possible. The Hulu Plus app on Windows puts key features into the app bar to keep the focus on content. You can access the app bar by swiping from the top of the screen, or right-clicking your mouse on the empty space in the app.
Now let's take a look at what to do with a show you really like. Perhaps you want to know how to share clips. Or how to watch the latest episode of a show. Or how to add something to your queue. Or whether KITT was the Godfather of Cylons. We can't answer that last one, but if you touch an image and gently slide it down and up, or right-click the image with your mouse, a menu of options will appear and let you share, add, and play anything you'd like.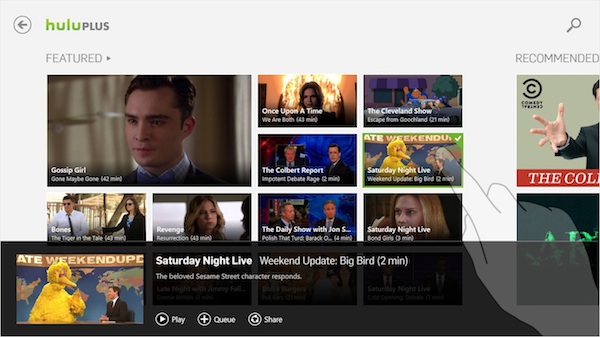 If you select a show, you'll get an extra bonus: a little button with the label "Pin." Pinning gives Hulu Plus subscribers one-touch access to their favorite shows directly from the Start screen.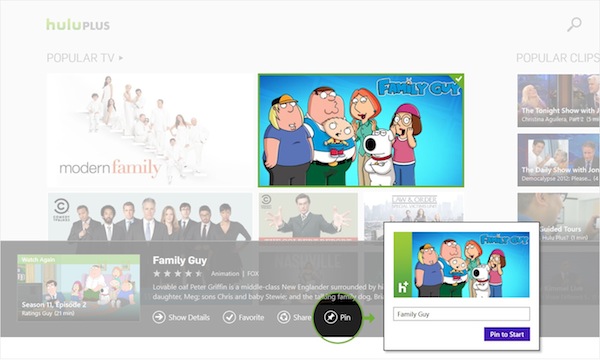 In the future, as new episodes of that show air on Hulu Plus, you'll see its images appear on the icon without ever starting the app; tapping it will get you what you want to watch faster than you can say "Family Guy."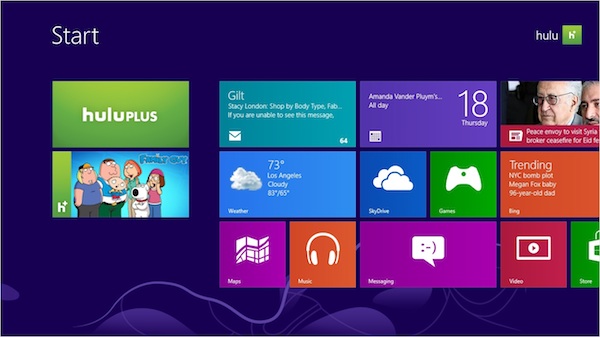 "That's great…," you say. "But I bet your app won't let me watch 'Gossip Girl' while using another app to write an email proving Fermat's Last Theorem… at the same time!" Fortunately, we've considered this very common scenario and are happy to let you know that our app supports something known as "Snap View," which allows you to watch Hulu Plus in a small screen while using another app in the larger screen. (And you can switch the two by dragging the slider). To try this, play back a video and drag your finger from the top middle to the center of the screen, then to the far left (or to the far right). With a mouse, click at the top of the screen and drag the app to the side to snap it.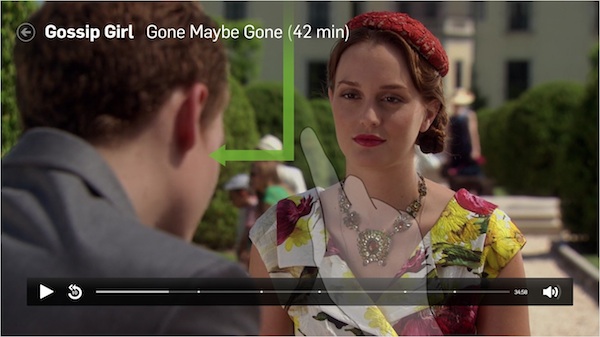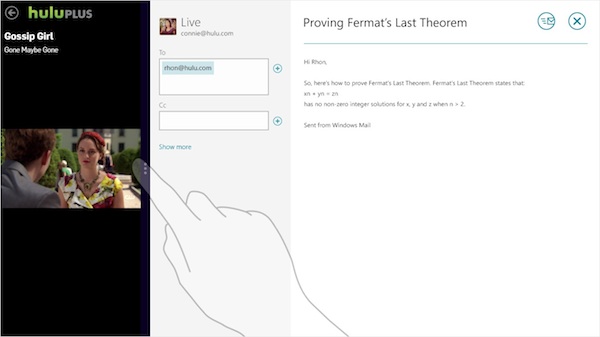 Hulu Plus will be preloaded on select Acer and Sony Windows 8 computers, and will be available for download on any Windows 8 device through the Windows Store. You can see all Hulu Plus enabled devices here. Give it a spin and let us know what you think!