In 1992, the great comedian Phil Hartman threw on his Arkansas sweatshirt and walked into a McDonald's. He was on the set of "Saturday Night Live" and doing his best Bill Clinton impression, continuing the show's grand tradition of Presidential lampoons.
What does that 20-year-old clip about a dieting President have to do with Hulu today? Just about everything.
We consider that sketch one of Hulu's hidden gems, and we've always wanted to do a better job of highlighting these moments, whether it's a funny bit from last night's Jimmy Fallon, the week's best TV episodes, a fresh import from the U.K., or even a vintage SNL sketch because, hey, it's an election year, and SNL's always at its best when someone's running for President.
This is why we're excited to share a new look and feel on Hulu.com with you today.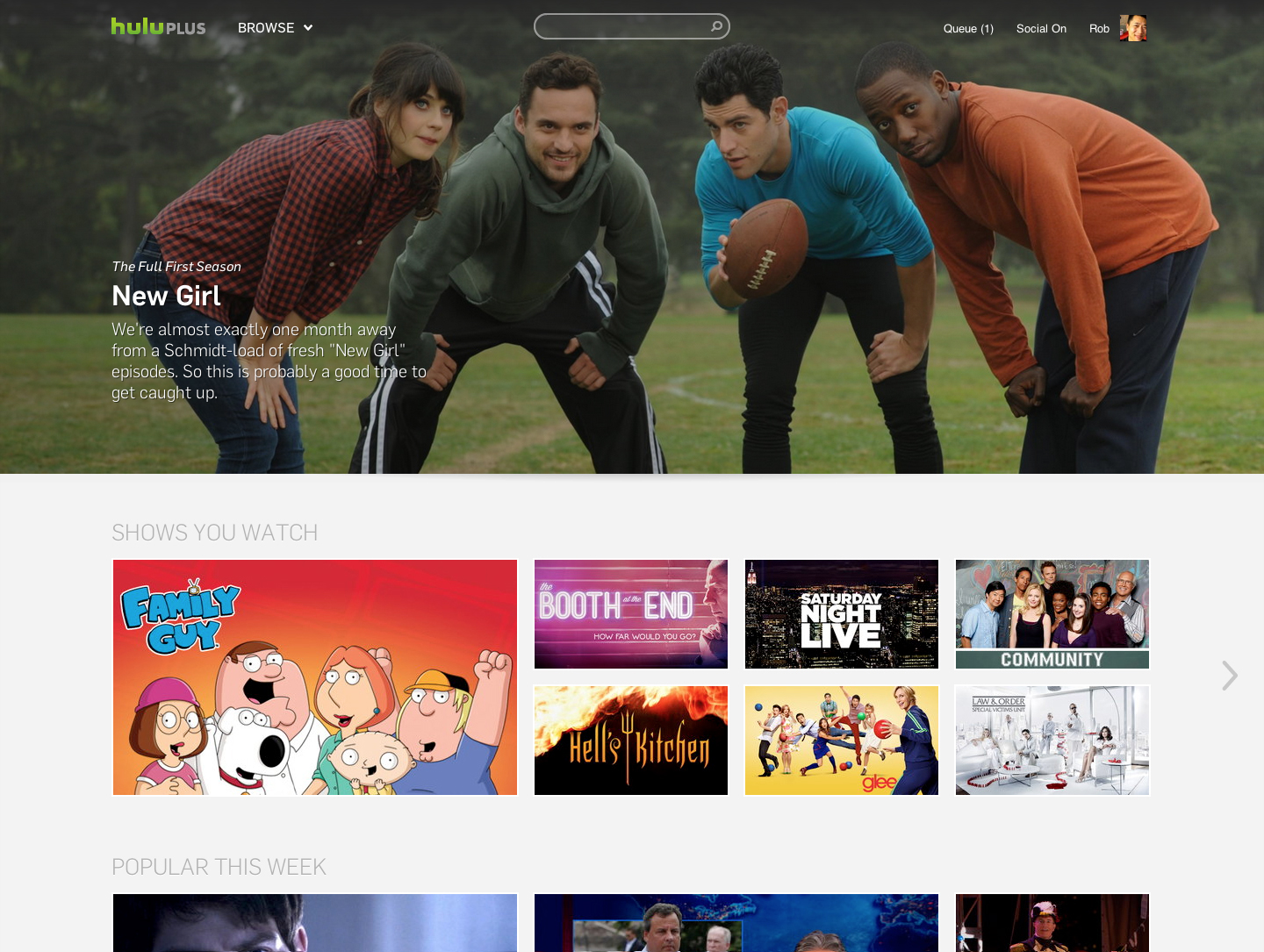 As we worked on the new layout for the site, we kept two things in the backs of our minds: How can we make it easier for you to find and enjoy the best TV moments on your computer? And how can we surround those moments with the most beautiful, elegant and innovative video experience on the web?
We've started by using larger, more vivid artwork to feature last night's TV episodes and new additions to Hulu. We've also implemented a new tray-style format to make it easy for you to browse and discover content. And for logged-in users, we highlight the "Shows You Watch" to make it super easy to jump directly to the shows you are already enjoying on Hulu.

Scroll down the homepage and you'll find the most popular episodes on Hulu this week, and shows and movies that are recommended just for you based on the videos you watch on Hulu.
On our homepage and across Hulu, you'll also find "Staff Picks". These collections of TV shows, movies and short videos are hand-picked by our editorial team to help you discover new shows to watch on Hulu. Some of the "Staff Picks" we launched today include a curated lineup of travel shows ("Armchair Adventures") and our favorite presidential impressions from SNL ("SNL for President").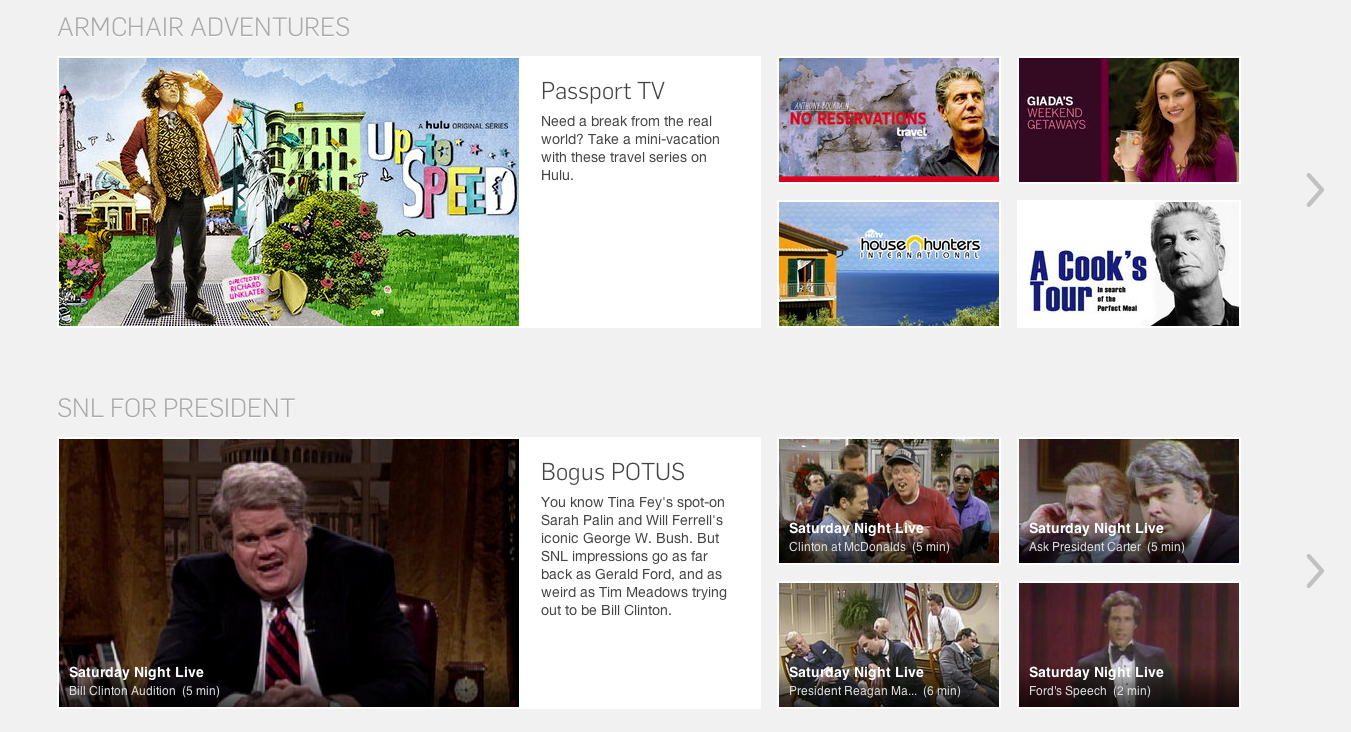 We've also improved our site navigation. Use the "Browse" menu to easily jump to popular content, content recently added to the site, specific networks, recommendations and more from any page on Hulu.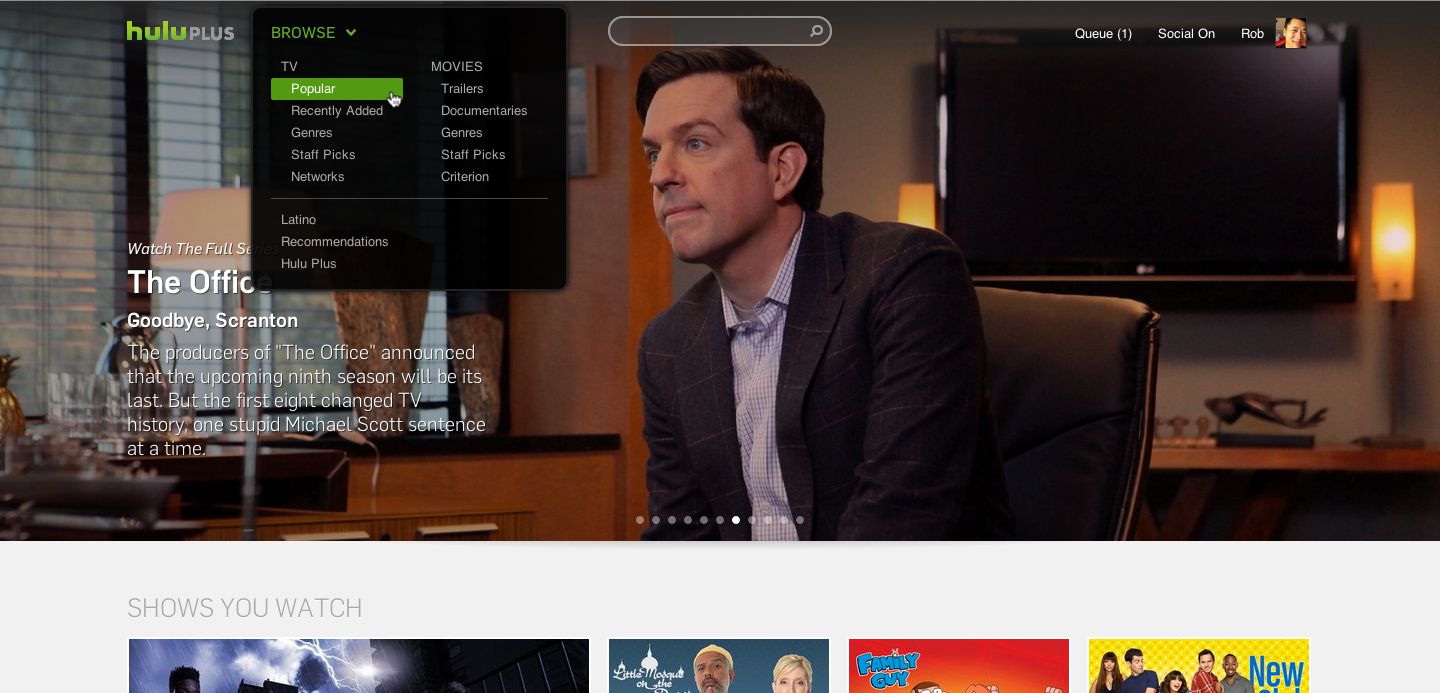 Looking for a particular show? Type in the name of a show in our updated Search Bar at the top of the page and we'll help you get to it faster.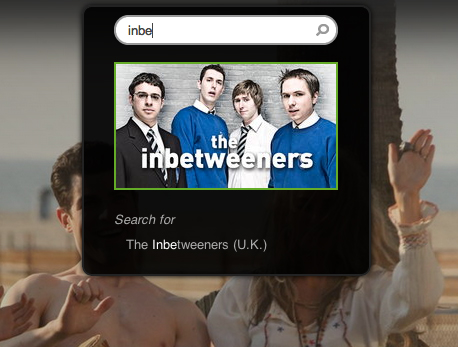 Once you've gone to a show, our new page layout makes it easy to pick up where you left off. We'll feature the next episode if you're in the middle of a series, point you to the first episode if it's a new show for you, or call out the latest episode if you're all caught up.
For instance, this week we've been bingeing on The Inbetweeners, England's answer to "Superbad," and now we just have to "Resume Episode" to jump right back in.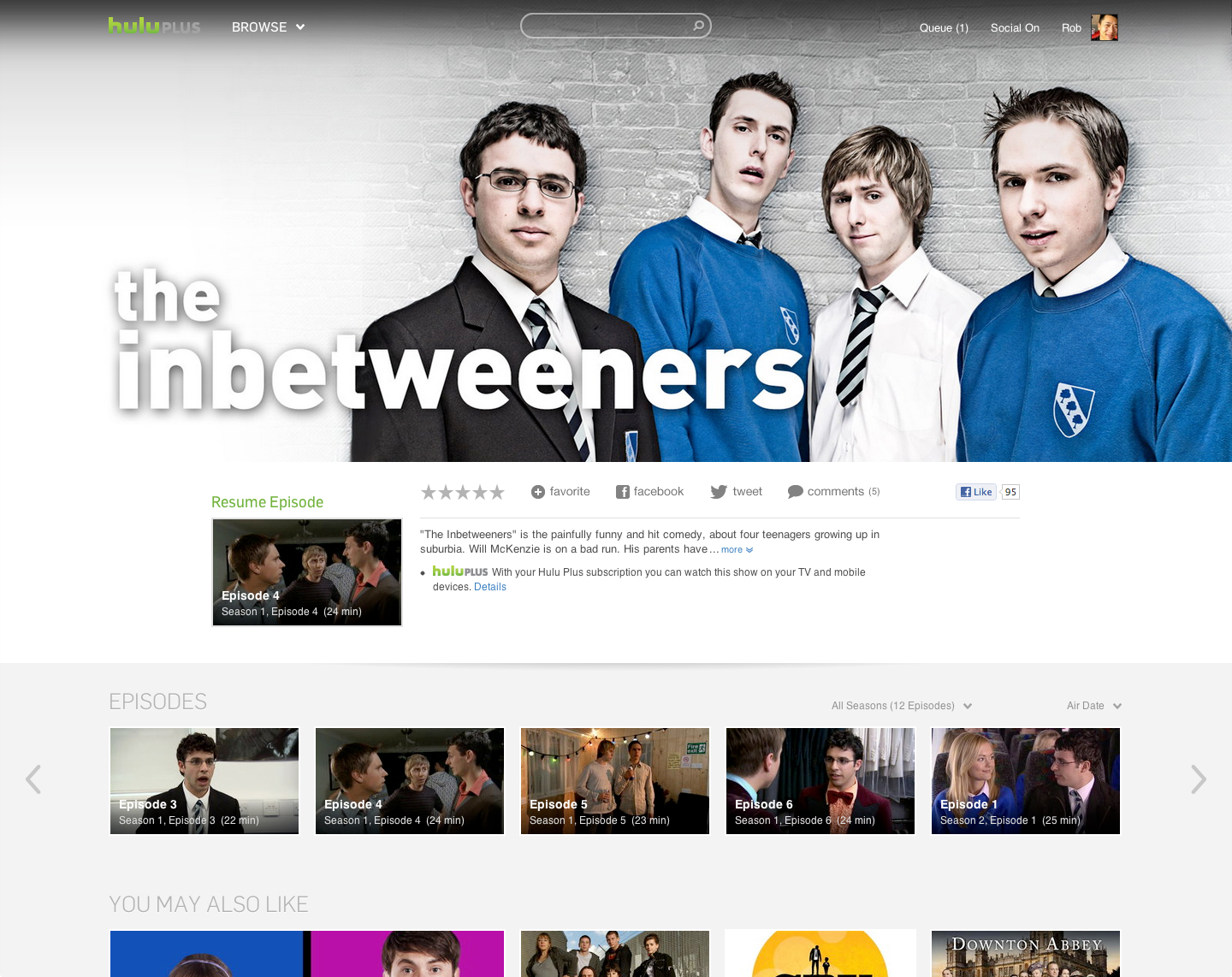 We think of the new updates to Hulu as just the beginning. As always, we'll continue to refine things as we learn how people are using the site and its new features, and as your feedback comes in.
Hulu's new look and feel is automatically rolling out to all of our users over the next several days, but if you can't wait, feel free to check it out now at http://new.hulu.com.



Special thanks to Internet Explorer, the official launch sponsor for the Hulu site redesign. Enjoy a more beautiful web with Internet Explorer.