Since our first days at Hulu more than four years ago, we've been focused on connecting passionate and engaged fans with the TV shows that they love.  To keep our users happy, we know we have to make a connection with them — offer them something that catches their eye, speaks to them in a compelling way and convinces them to press "play."  We scour the earth to find great content that we think can do just that, whether it's top shelf U.S. primetime shows, hard-to-find anime, popular British series or Korean dramas.   Today, we are offering another passionate, engaged and tech-savvy audience a deep library of current season and classic content never before available online and on-demand.
As it launches today, "Hulu Latino" is the first time that such a robust, Spanish-language premium content collection has been available through an online video service in the U.S.  And this is just the beginning. There's much more to come in the months ahead.
With the launch of Hulu Latino, users of the Hulu Plus subscription service will be able to find and enjoy hundreds of hours of current and classic Spanish-language programming, including the entire current season of primetime TV shows from Univision, Galavision and Telefutura. Users of the free Hulu service now have next-day access to a selection of popular current season programming, including favorites like La Fuerza del Destino, Aqui y Ahora, Protagonistas, and Noche de Perros. Hulu Plus subscribers will be able to watch all the content available on the free Hulu service through any Hulu Plus enabled device.
Today, in addition to launching Univision content, we are also proud to announce 11 new Spanish-language content partners: Azteca America, Butaca, Caracol Televisión, Comarex, Estrella TV, Imagina US, Laguna Productions, Maya Entertainment, RCTV, Todobebe Inc, and Venevision. Content from these partners will start appearing on Hulu and Hulu Plus in 2012.
We know that a majority of viewers watching Univision and other premium Spanish-language shows move between English and Spanish language programming on a regular basis. Given that, our goal was to delight the Hispanic community by creating a fully-integrated experience within the Hulu environment. We designed the Spanish-language experience on Hulu so that fans of La Fuerza del Destino could just as easily find and enjoy the latest episode of Modern Family. We will also continue to improve the product and service to make the experience of enjoying this content better for all of our users, whether they are Spanish-speaking, bilingual or English-speaking.
You'll see that we have a new tab called "Hulu Latino" at the top of the Hulu homepage which brings users to a dedicated hub for all Spanish-language movies and TV shows on Hulu and Hulu Plus.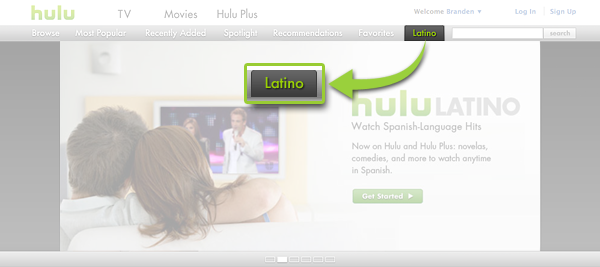 We have built out our search functionality to include filtered search results for Spanish-language programming. Content will also be categorized by subgenre.  For example, a user can find relevant programming by typing "novelas," "comedias" and "variedad" in the search box, and content from that genre will appear. Users can also search and find specific shows using Spanish show titles. All the episode descriptions will be in Spanish. Our recommendation engine has also been engineered for our Spanish-language viewers, so a user watching Spanish-language programming will receive other relevant Spanish-language content recommendations.
The entire Hulu Latino experience is supported by our advertising partners at Corona, Modelo, Toyota, Pantene, and Volkswagen of America. We hope fans of Spanish-language programming enjoy the new content additions to Hulu and Hulu Plus. Let us know what you think.  Bienvenidos a "Hulu Latino!"